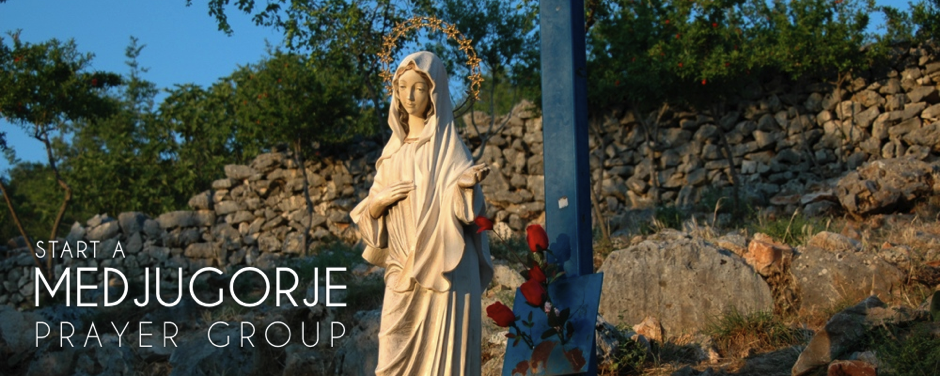 The Prayer Card
The Prayer Card
At the Christ the Prince of Peace Medjugorje prayer group a prayer card has been developed that has sustained the group since it's beginnings. It is quite simple but very complete in its content and guides the meeting from start to finish. The prayer meeting takes 1 hour.
You can download the Medjugorje Prayer Group prayer card by simply typing your name and email address below.
The Starter Pack
The Starter Pack
We can provide you with the following resources to help you get your prayer group quickly up and running:
A beautiful image of Our Lady of Medjugorje

Prayer cards for the prayer meeting

Rosary beads blessed in Medjugorje

A CD of Medjugorje inspired music

A Book of Medjugorje messages
Please use the form (right) to request a starter pack.
Start a Prayer Group
The Blessed Virgin's messages on prayer groups
A number of Our Lady's messages point to a specific desire for the formation of prayer groups in parishes and families. The Medjugorje visionary Ivan has stated "Prayer groups are the hope of the Church and the world."
Our Blessed Mother has said:
"All people should be part of a prayer group."

"Every parish should have a prayer group."

"I would like to recommend that all my priests start a prayer group with the youth and teach them, giving them good advice."

"Today I call you to renewal of family prayer in your homes. The field work is over. Now let all of you be devoted to prayer. Let prayer take the first place in your families." (November 1, 1984)

"Pray, especially before the cross from which great graces are coming. Now, in your homes make a special consecration to the cross of the Lord." (September 12, 1985)
If you want to start a Medjugorje prayer group, either in your church or in your home, then it is necessary to get the consent of the Parish Priest. If the Parish Priest does not consent the prayer group cannot go ahead.
If the Parish Priest does give his consent:
He should be shown the prayer card and he should approve of its content

He should be invited to be the group's spiritual director

Ask permission to have the prayer meeting in the church. If that's not possible, a suitable meeting room or a person's home

If in the Church, ask permission to have meeting in front of the exposed Eucharist and have eucharistic ministers in the group to facilitate this

There should be a small leadership team - three to five people - who attend every week so that the meeting always takes place. Out of this group one person should act as team leader.

Meetings should be held on the same evening at the same time every week so that people can rely on meetings taking place without having to be notified each time

Adherence to the approved prayer card format and good general discipline in how the meeting is conducted is the core responsibility of the leadership team. The Parish Priest will not always be able to attend the prayer meeting and so is relying on the team to keep to the format he has approved

The team leader should keep the Parish Priest regularly informed of the progress of the prayer group and how things are going with it in general

If the prayer group is taking place in the Church, leaders must lay out the altar, with monstrance, candles and flowers and reception table with Our Lady's picture, prayer cards, candles, petition basket and spare rosaries well before people start arriving. Leaders should then be ready to receive members warmly, hand them their prayer cards and put their petitions into the available basket which will be placed before the altar just before commencement

When the prayer meeting is over leaders must ensure that everything is put away safely and church or premises securely locked.

If the meeting is being held in a house then after the meeting would be an opportunity for people to have a cup of tea and a chat.
Meeting Format
The Meetings
The Medjugorje prayer group is a place where people can spend one hour in prayer and meditation with Our Lady in a calm environment where there is no pressure whatsoever.
Meetings are usually every week, held at the same time and place. The groups can be open or closed. An open group needs a core group of three or four members who are willing to act as leaders and turn up every week, then people should feel free to attend without obligation.
At the meeting we ensure that the following items are placed on a table:
A picture of The Blessed Virgin

Candles

Prayer cards

A small basket for petitions

Spare rosaries
If the meeting is taking place in a church the basket of petitions is placed at the foot of the altar at the start. In another setting it can be placed in front of the picture of Our Lady or a statue of her if one is available. Petitions are confidential and should beplaced in a secure place by the group leader after the meeting. Once every few months the petitions should respectfully gathered up and burned.
We follow our prayer card which also allows time for quite prayer. Leading into this part of the meeting we usually play Medjugorje inspired music before the time for silent prayer begins. The meeting takes no longer than one hour when following the prayer card.
Guidelines
Guidelines for leaders
The Leader of the Prayer Group
Our Blessed Mother has said, "It would be best if the priests gather the people around, but that a lay person can lead a prayer group. If it is a lay person who takes charge then he or she should really know their faith. They should read the bible and be advanced in spiritual knowledge."
Prayer group leaders should prepare the meeting place for the group ahead of when the first people arrive

He or she needs to welcome new members warmly

If there is dissention, the group leader must keep the peace, pray for guidance.

Adherence to the approved format and good general discipline in how the meeting is conducted is the core responsibility of the leadership team.
Meeting Format
The prayer group should not be a place for personal testimony or ministering. There are other outlets for this type of prayer. Neither is it a venue for openly calling for special prayers - petitions to Our Lady should be placed in the basket provided which is then placed on the altar. The Medjugorje prayer group is a place where people can spend one hour in prayer and meditation with Our Lady in a calm environment where there is no pressure whatsoever.
Prayer Group Member Responsibilities
Our Blessed Mother has provided us with a living model of what a prayer group should be. She provided Jelena Vasilj (locutionist) with these following instructions that were to be applied to the prayer group:
Eliminate Fear
They were to put away all fear from their hearts forever. They should renounce all inordinate desires. They were to avoid television, particularly evil programs, excessive sports where it would take away from their prayer life, the unreasonable enjoyment of food and drink, alcohol, tobacco and other habits. She urged them to eliminate all anguish and told them whoever abandons himself to God, without any restrictions, does not have room left in his heart for anguish.
Fasting
She asked that they fast twice a week on bread and water. Gospa says this is the Best fast. Fasting can stop wars and suspend natural laws she also says. Fasting one or two days a week is a form of oneness with the Lord. Maria Lunetti the visionary stated that there were other forms of fasting too. For those people with addictions, they were to fast from those addictions one day a week. Television is another good form of fasting. Giving up something you enjoy.
Prayer throughout your day
Gospa told Jelena they the group should devote three hours a day to prayer. A half an hour should be in the morning, a half an hour in the evening. Holy Mass and the Rosary are included in this time of prayer. Set aside moments during the course of the day to pray. Do not concern yourself with the things of this world but entrust all things in prayer to Our heavenly Father. Gospa said that those who attend school or go to work must pray half an hour in the morning and in the evening and if possible, participate in the Eucharist because it is necessary to extend the spirit of prayer to daily work. Gospa told them to be especially prudent in their prayers since the devil will tempt those who have resolved to consecrate themselves to God. He will suggest to them that they are praying too much. She wants us to listen to her voice and not to his. When you are strengthened then the devil will no longer be able to seduce you.
Confession
The prayer group members are to go to confession at least once a month but when it is especially needed because of hardships then even more frequently. With confession we not only free ourselves from sin but we also are able to perfect ourselves in holiness and be closer to Jesus. "Confession is the remedy for the church in the West" Our Blessed mother has said.
Strive for Holiness
Our Blessed Mother encourages us to desire to be holy and to help other members of our group to desire to be holy and to grow in holiness. This is what we are called to do.
Holy Objects in the home
Gospa says that we need to have holy blessed objects in our homes and also on ourselves. Medals, Crucifixes and holy water to name a few. She also wants us to have the Holy Bible placed in a prominent place at home and to read this daily.
"I invite you to place more blessed objects in your homes and that each one wear some blessed object on himself. Let all the objects be blessed. For then, Satan will not tempt you so much, because you will be armed against him." (July 18, 1985)
The above rules were given to Jelena's prayer group by Our Blessed Mother.
From: Prayer Groups. Medjugorje - The Sunset and The Need for Prayer Groups. Compiled by Joseph E. McNamara, Queenship Publishing Company.